I can do it! Activity pack for children aged 3-4
Includes 5 beautifully packaged activity books plus a bonus page of stickers:
engaging activities
more than 300 stickers
teaches children to draw, use scissors and work with glue
develops diligence and attentiveness
grown-up helpers will have fun too
good quality paper
convenient format and open flat spiral binding
more
I can do it! Activity pack for children aged 3-4
5 workbooks with 64 pages each
Matte coated or offset paper
More than 300 laminated stickers
The product is packed in a cardboard box
Spiral binding
Weight: 1.9 kg
Size: 305mmx210mmx40mm
Written by Natalya Lyalina, Irina Lyalina, Evgenia Lazareva
Illustrated by Evgenia Salikhova, Anastasia Gileva, Marina Naumova
Cover and interior design by Nina Konoplyanskaya
more
About the Activity Pack
We believe that learning activities need to be interesting, both for children and their supervising adults. Here's what we've done to keep the little ones and their grown-up helpers entertained:
Educational topics
Why do we need an icebreaker? How do people live in the far north? How are cars assembled in a factory? These books introduce lots of interesting new conversation topics.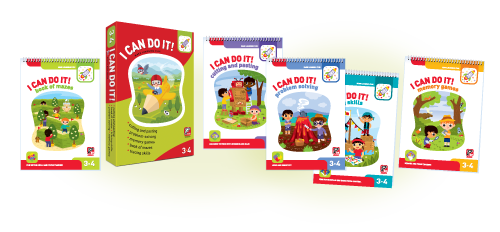 Activities with a storyline
Why do children themselves ask to work with our activity books? Because for them it's not a chore, it's a game! They will study drawings of ancient people, visit a dinosaur museum, build a submarine... Each activity has its own fascinating story or mini adventure.

Gradual increase in difficulty
We have made sure that the tasks are both engaging and of suitable complexity for children aged 3 to 4. The difficulty of the tasks gradually increases so that your child can feel confident in their abilities.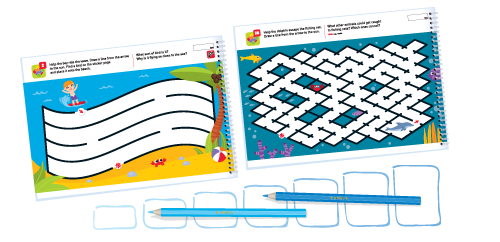 Lots of stickers
Each activity book has at least one page of stickers, and the "I can do it! Cutting and Pasting. Age 3-4" activity book has three pages of stickers. As a gift, you will also receive a page with two games: "I can dress myself!" and "I can exercise!".

High quality
We have made sure that every child who picks up our activity books will find them comfortable and easy to use, with thick paper, high-quality printing, reusable stickers and convenient binding. The paper in the "I can do it! Tracing Skills. Age 3-4" and "I can do it! Book of Mazes. Age 3-4" books is different from the other activity books in the set. It is especially good for drawing on with crayons, pencils and felt-tip pens.
Spiral binding
We have carefully designed the convenient spiral binding so that the book will open flat and will not bend or get in the way of activities. This is especially important for young children.

Activity Pack Includes:
"I can do it! Problem Solving. Age 3-4"
65 activities for the enhancement of problem-solving skills and creativity. Activities will help make your child's thought processes more creative, flexible and diverse.
"I can do it! Memory Games. Age 3-4"
47 engaging activities for the development of memory and attention. This activity book will help your child develop different types of memory. Activities focused on memory development alternate with attention-development tasks – for example, your child will be asked to find mistakes, differences and hidden objects.
"I can do it! Tracing Skills. Age 3-4"
63 activities that will help your child learn to hold a pencil properly, draw lines neatly and prepare their hand for writing. Your child will also be introduced to numbers from 0 to 5.
Bonus stickers
Two sets of stickers — "I can dress myself!" and "I can exercise!" — come as a bonus. Swim like a dolphin! Jump like a kangaroo!
Other Activity Books Suitable for Children Aged 3-4