I can do it! Cutting and Pasting. Age 3-4
Includes 30 simple cut and paste activities and 27 games with stickers:
fun and engaging storylines
teaches your child to work with scissors and glue
includes 4 three-dimensional projects
introduces interesting topics for discussion
improves attention skills and diligence
80 reusable stickers
convenient format and open flat spiral binding
This activity book is printed on carefully chosen thick paper, making it easy for children to use.
more
I can do it! Cutting and Pasting. Age 3-4
Matte coated paper
80 laminated stickers (3 pages)
64 pages. Size: A4
Spiral binding
Weight: 430g
Written by Natalya Lyalina, Irina Lyalina
Illustrated by Evgenia Salikhova, Marina Naumova, Elizaveta Akhimova, Elena Ovchinnikova, Anastasia Gileva, Alena Chufistova
Translated into English by Elena O'Neal
Edited by Nadia Stulock, Lucinda Hawksley
Proofread by Manda Waller
more
About the Activity Book
This book will help your child learn to cut and paste neatly while also having fun!
Activities with a storyline
Making soup and rescuing ducks from a hunter is much more interesting than just cutting paper into strips. We've come up with lots of interesting stories to keep even the most restless child entertained. Now cutting is not just a task, it's also a game!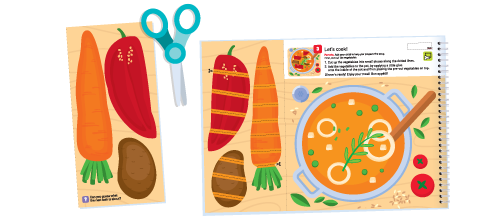 Gradual increase in difficulty
Your child will start with the simplest of cutting tasks – cutting off a piece of paper from a strip. Then they will learn to cut in a straight line, and by the end of the activity book your child will be able to cut out shapes by following a simple outline. To check that the tasks in this activity book were not too difficult for young children, we tested them by cutting out all the pieces using just our non-dominant hands. This was surprisingly difficult, and as a result we adjusted the complexity of some of the cutting lines. We also learned to cut using our non-dominant hands :-).
Lots of stickers
We know how much children love stickers. After each cutting task, your child will be asked to place some stickers into the book. This will keep them interested in the project, and careful sticker placement is also good for developing fine motor skills. There is a total of 80 stickers in the activity book (and don't worry, they are all sturdy enough to be removed and repositioned if necessary!).

Clever format
Each page has two parts: one side contains the pieces for your child to cut out, and one side is for the cut pieces to be glued onto. The cutting part is designed so that it is easy for a child to hold comfortably. And once all the tasks are completed you'll have a beautiful book, that you can keep as a memento!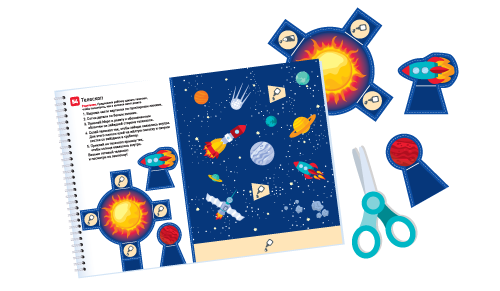 Spiral binding
We have carefully designed the convenient spiral binding so that the book will open flat and will not bend or get in the way of activities. This is especially important for young children.

And at the end – a medal!
A completed task is a great accomplishment for a little one and it deserves a reward! When the activity book is finished, you can present your child with a medal from the sticker page.

Useful Tips
Stock up on tape
If your child accidentally cuts the wrong way, simply suggest that it can be repaired with tape. Learning how to use tape is also interesting and a useful skill!
What is the modelling clay for?
To train your child's hand, make strips out of clay and have your child cut them. Children love it!
Choosing the right type of glue
It's usually easiest to use a glue stick. But we recommend trying different kinds of glue to make it more fun. Liquid glue can be applied directly from the tube using a finger or a brush.
Choosing the right scissors
Choose safe scissors. We advise against plastic scissors because the paper is quite thick and your child might find it hard to cut with plastic scissors. If your child uses their left hand more than their right hand, they will find it much easier to use left-handed scissors. Some children's scissors have a handy little secret – they open automatically with the help of a spring. It's even easier to cut with these scissors!
What else to cut and paste?